Into The Image – Horizontal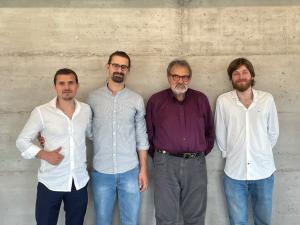 Behind the Scenes with the Main Crew during an Interview with Oliviero Toscani. Left to Right: Oleksandr Gordieiev, Michele Nicolè, Oliviero Toscani, and Borys Dolgopolsky.
"Journey through 'Where Shadows Speak Louder: Into The Image' documentary, redefining visual storytelling and reality perception."
Exploring the depths of visual storytelling, 'Where Shadows Speak Louder: Into The Image' redefines how we perceive reality."
— Borys Dolgopolsky
MILAN, ITALY, August 11, 2023/EINPresswire.com/ — Discover an immersive cinematic experience with the upcoming release of "Where Shadows Speak Louder: Into The Image." This intriguing documentary takes audiences on a journey through the captivating landscapes of Italy and Switzerland, delving into the intricate world of visual storytelling. The film challenges perceptions of reality and delves into the vital role images play in reflecting our world.
The narrative unfolds through the lens of visionary individuals who shape contemporary imagery. The perspectives of figures such as Andrea Dojmi, Ingrid Strain, Ferrania Film Museum, Werner Jeker, and Oliviero Toscani guide viewers through the present-day landscape of visual expression. This diverse range of voices sets the stage for an exploration that delves deeper than the surface of images.
Transporting us to the mesmerizing island of Sardinia, the documentary unveils the treasures of ancient history through archeological excavations and solidified volcanoes. Interviews with archeologist Paolo Pinna and geologist Luigi Sanciu shed light on the origins of human creativity and expression.
The documentary further leads into the heart of history – the cave of Bellegra. Here, humanity's first paintings come to life, immersing audiences in the origins of visual storytelling through the captivating narrative of these ancient images.
The expedition culminates in Falera, Switzerland, where a conversation with perceptive astronomer José De Queiroz invites viewers to contemplate our planet's place in the vast cosmic tapestry.
"Where Shadows Speak Louder: Into The Image" promises a runtime of 93 minutes, offering an intellectual and emotional voyage. The engagement in contemplative dialogues about the intricate interplay between images and our understanding of reality. The documentary is presented in Italian and French languages with English subtitles, highlighting the richness of linguistic nuances within visual narratives.
The official release date is approaching, offering a unique exploration of images that challenges conventional perceptions of the world.
Follow us on Instagram @borys_kr and tag us with #IntoTheImage for updates, exclusive content, and more.
For media inquiries, interviews, or additional information, please contact Oleksandr Gordieiev at [email protected]
Directed by Borys Dolgopolsky

Written by Michele Nicolè

Produced by Oleksandr Gordieiev & Borys Dolgopolsky
Cast:
Andrea Dojmi

Jean Blanchaert

Alessandro Bechis

Ingrid Strain

Werner Jeker

Oliviero Toscani

Paolo Pinna

Alessandro Ariu

Luigi Sanciu

Pietro Marra

José De Queiroz
Crew:
Maria Radenko – PA

Luigi Pranzo Zaccaria – PA

Jiahui Wu – VFX

Vasyl Melnychyn – 2nd Camera Unit

Illia Ivashchenko – Sound

Lucca Morra – Color

Oleksandr Gordieiev – DoP, Production Manager

Michele Nicolè – Writer

Borys Dolgopolsky – Director, Editor, Producer
Borys Dolgopolsky
Borys Dolgopolsky Production
email us here
Visit us on social media:
Instagram
YouTube
Twitter
LinkedIn
Facebook
TikTok
Other
Into The Image – Official Trailer (2023)


Originally published at https://www.einpresswire.com/article/649029999/unveiling-into-the-image-a-cinematic-exploration