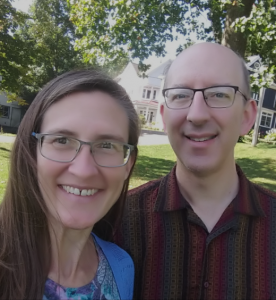 Bryce and Kathryn Denney, the dynamic filmmakers who made choirs possible during the pandemic will be on hand for the Boston Public Library free screening of their documentary, "The Drive to Sing."
Boston Public Library hosts Special Free Screening + Q&A "The Drive to Sing" – a journey that changed countless lives
"The Drive to Sing" is more than a movie. It's a testament to the power of music and the human need for community."
— Kathryn and Bryce Denney
BOSTON, MASSACHUSETTS, USA, October 20, 2023 /EINPresswire.com/ — Boston singers, choir members, and music lovers: the Boston Public Library is hosting a special, free screening of "The Drive to Sing." The inspiring documentary showcases how far a little ingenuity, a dose of determination, and a whole lot of passion can go. Choruses across the country, silenced by the pandemic, had to find new ways to do what they love.
"The Drive to Sing" is more than a movie. It's a testament to the power of music and the human need for community.
What: Join music lovers of all ages for a special screening of "The Drive to Sing" followed by a fun Q&A session with the filmmakers.
When: Thursday, October 26, 2023, 2 PM EST
Where: Boston Public Library – Copley Square, Rabb Lecture Hall (downstairs),

700 Boylston Street, Boston, Massachusetts
Cost: Free
Duration: 75 min
Meet the Filmmakers: There will be an opportunity to meet Bryce and Kathryn Denney, the talented local creators behind this film, in a Q&A session following the screening.
For more information, visit www.thedrivetosing.com
Samantha Maez
EPEC Media Group, Inc.
+1 562-201-4357
email us here
Official Trailer for "The Drive to Sing"
Originally published at https://www.einpresswire.com/article/663131129/boston-public-library-hosts-special-free-screening-q-a-the-drive-to-sing-a-journey-that-changed-countless-lives