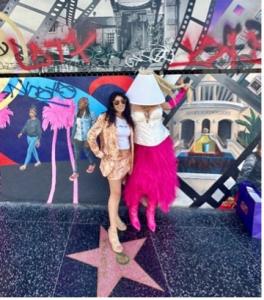 Farrah Mechael & Shitty Princess pose for a photo as they attend meetings and video shoots in Hollywood, California for the promotion of their new single, "Scream Official Remix"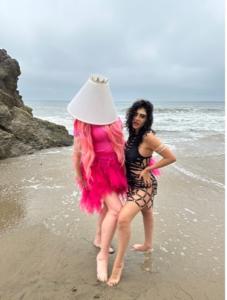 Farrah Mechael & Shitty Princess pose on the beach in between takes during the filming of the music video for their newest joint single, "Scream Official Remix."
Pop music royalty Farrah Mechael and Shitty Princess bring summer vibes into fall with dance masterpiece "Scream Official Remix"
combined their musical influences and experiences to compose "Scream Official Remix," fitting with both of their supported causes of self-expression and women claiming their power."
— Tamara Mechael
LOS ANGELES, CA, USA, September 28, 2023 /EINPresswire.com/ — Get ready for a musical revolution as chart-topping sensation Farrah Mechael and enigmatic hitmaker Shitty Princess join forces for the electrifying "Scream Official Remix." This collaboration transcends genres, delivering an auditory experience that redefines sonic boundaries and sets dance floors ablaze.
The "Scream Official Remix" is a testament to the boundless creativity of these two artists and an artistic fusion of two musical powerhouses. This record promises an unforgettable auditory journey—a sonic escape perfect for dance floors, Friday nights, and the spirit of celebration.
Farrah Mechael's remarkable achievements in the music industry include chart-topping hits, with her single "Burning" reaching the coveted #1 spot among independent artists and an impressive #21 on Top 40 radio charts, sharing the limelight with pop icons Beyoncé and Lady Gaga. Her live performances, marked by her powerhouse vocals, have solidified a dedicated fan base, having shared stages with world-renowned artists like Ariana Grande, Marshmello, and Shawn Mendes.
Shitty Princess, known for her chart-topping electronic beats and enigmatic persona, reigns supreme in the world of dance music. Her electronic beats have dominated charts, and her exceptional artistry led to FYC nominations across five categories at the 2021 Grammy Awards. Shitty Princess has headlined her own festival, Princessfest, and graced stages alongside music luminaries such as Post Malone, Migos, and Dillon Francis.
Together, Farrah Mechael and Shitty Princess combined their musical influences and experiences to compose "Scream Official Remix," fitting with both of their supported causes of self-expression and women claiming their power. The original composers of the lyrics include Farrah's very own sister, Tamara Mechael, chart-topping songwriter and renowned poet.
Farrah Mechael Links

iTunes → https://music.apple.com/us/artist/farrah-mechael/797743164

YouTube → https://www.youtube.com/channel/UC87qJqXeC92pa1b2axM5UWQ

Spotify → https://open.spotify.com/artist/6RZRM6i4lpRuRBCLvFFKiV

Instagram → https://www.instagram.com/farrahmechael/?hl=en

TikTok → https://www.tiktok.com/@farrahmechael?lang=en

Twitter → https://twitter.com/farrahmechael

Facebook → https://www.facebook.com/people/Farrah-Mechael/100068618771398/?paipv=0&eav=AfZe6JSoY3QNZpFe1ZrYBRgscba9GWKwFAXSAAbopVbBKagZPJbLP5qiap_8_uRYgs&_rdr

Soundcloud → https://soundcloud.com/farrahmechael

Website → https://www.farrahmechael.com/
Sh!tty Princess Links

iTunes → https://itunes.apple.com/us/artist/shitty-princess/1282364513

YouTube → https://m.youtube.com/c/shittyprincess

Spotify → https://open.spotify.com/artist/6UevyMSuO9XlYT5J7jqnJn

Instagram → https://instagram.com/sh_ttyprincess

TikTok → https://tiktok.com/@shittyprincess

Twitter → https://twitter.com/sh_ttyprincess

Facebook → http://fb.com/sh.ttyprincess

Soundcloud → https://soundcloud.com/shittyprincess

Pinterest → https://www.pinterest.com/shttyprincess/
Tamara Mechael
Scorpio Productions, Momo Entertainment
[email protected]
Visit us on social media:
Facebook
LinkedIn
Instagram
Other
"Scream Official Remix" by Farrah Mechael and Shitty Princess


Originally published at https://www.einpresswire.com/article/658261222/a-fusion-of-chart-toppers-and-dance-music-royalty-scream-official-remix-by-farrah-mechael-and-shitty-princess