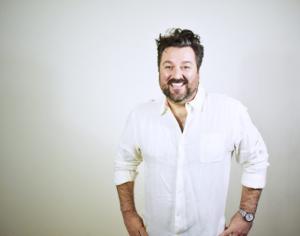 2 Guys Comedy Tour Mark Riccadonna
2 Guys Comedy Tour Tom Briscoe
Top comics Mark Riccadonna & Tom Briscoe bring their quick wit, timing, and rapport drawn from decades of comedy, show business and friendship to Glastonbury.
GLASTONBURY, CT, USA, July 31, 2023/EINPresswire.com/ — On November 30th, the 2 Guys Comedy Tour will be coming to the Glastonbury Theater, located at 43 Naubuc Ave in Glastonbury, CT. Tickets are on sale to the public at ezEvent.com
The 2 Guys are top comics Mark Riccadonna & Tom Briscoe. Their quick wit, timing, and rapport drawn from decades of comedy, show business and friendship make every show hilariously fresh. They bring original stand up, classic jokes, sketches and stories to every show. After solo stand up sets, they will goad, cajole and sometimes taunt each other to hilarity with the audience relishing the ride. The format makes every show a unique gut-busting night of laughter. The Two Guys Comedy Tour will hit the funny bone for adults of all ages.
Mark Riccadonna, a proud graduate of The American Academy of Dramatic Arts. He has worked non-stop as an actor, voiceover artist, writer, comedian and in the last few years, a producer and director. He has toured globally, playing theatres, clubs, and with the USO and Armed Forces Entertainment (which landed him his Travel Column "Dad Trippin" in Today's Man Magazine and as a contributing writer for Saturday Night Live's Weekend Update). In addition, Mark has performed on such diverse shows as "Monsters of Rock Cruise" to "Disney Cruise Lines" Fox's Laughs, Red Eye, and Live at Gotham.
In addition, Mark worked as a voice-over actor and directed the play "The Boom" for the NYC Dream Up Festival, Theatre 68's Say it Ain't So, as well as Directed a pilot he co-wrote called"Radio Gods," which premiered at "The New York Comedy Festival." Most recently, Mark landed the role of "Cooler "in The new Pilot Un$uited with Dan Lauria and Ronnie Marmo. Mark is a truly gifted storyteller with a charisma that makes you feel like you've known him forever.
Tom Briscoe has hilarious slants and rants on bad jobs, a good marriage, travel mishaps, raising daughters, empty nesting, ungracefully aging, unsolicited advice and living each day as a cautionary tale.
Early in his career, he appeared on the tv show Comedy at Club 54 in Canada.He subsequently moved up through the comedy ranks and was awarded a grant for his uproarious solo show,"So… I Got Fired From THAT Job!" His recently taped Dry Bar Comedy Special has exceeded 1,000,000 full episode views. His slew of hilarious 1-minute videos on Rizzle TV have been viewed over 250,000 times. Cuts from his album "Cocktails & Jail Food" are in regular rotation on all the satellite radio comedy platforms.
He is a regular comic on all the best comedy stages in Las Vegas, Atlantic City, NYC, American comedy clubs nationwide, and on all the top cruise lines worldwide. His ship travels have brought him to over 100 countries and his stories as to why only 86 will let him back in are side-splitting audience favorites.
For more information, visit ezEvent.com
Baker Concerts
Baker Concerts
email us here
Originally published at https://www.einpresswire.com/article/647228718/2-guys-comedy-tour-is-coming-to-the-glastonbury-theater-on-november-30th